Sell Your Car
Selling or trading in your car can often be a daunting process filled with uncertainty and hassle. Crazy J Cars, however, offers a revolutionary approach that stands out in today's dynamic car market. Whether you're contemplating the best way to sell your car, seeking a quick cash offer, or looking to trade in your vehicle, Crazy J Cars provides a straightforward, efficient, and customer-centric solution.
10 Reasons to Sell Your Car Online
1. Seamless Online Selling Experience In the digital era, convenience is key. Crazy J Cars harnesses this by offering an easy online platform for selling your car. Gone are the days of visiting multiple local dealerships or listing your car on various online marketplaces. With Crazy J Cars, you can simply enter your car's details—such as the license plate number or vehicle identification number (VIN)—on our user-friendly website. Within moments, you'll receive an instant online offer, a feature that sets us apart from traditional car selling methods.
2. Competitive and Fair Cash Offers we understand that getting the best price for your vehicle is paramount. Whether you own a latest model car or truck, an older car, or even one with negative equity, we ensure that you receive a competitive and fair cash offer. Our system is designed to evaluate a wide range of factors, including the make, model, year, condition, and market trends, to provide you with the best possible offer for your vehicle.
3. Specialized in Leased and Title-less Cars Selling a leased car or a vehicle without a title can often be complicated. We simplifies this process. We handle the complexities of dealing with the payoff amount for leased cars and offer guidance on how to sell a car even if it's without a title. Our aim is to provide a convenient way to sell your leased or title-less vehicle without any added stress.
4. Personalized Pickup and Inspection Service Upon accepting our offer, Crazy J Cars makes the process even more convenient by offering a pickup service. Our team will come to your location to pick up your vehicle, saving you time and effort. Once the car is at our facility, it undergoes a thorough inspection by our skilled professionals. This inspection ensures transparency and trust in the valuation process, as every aspect of the car's condition is taken into account to finalize the offer.
5. Effortless Completion of Sale Completing the sale of your car with us is a breeze. We handle all the necessary paperwork, making sure that the process is as smooth and hassle-free as possible. We offer payment with certified bank checks. Our team is dedicated to ensuring that you experience a seamless transaction from start to finish.
6. Trade-in Options for New Purchases If you're not just selling but also looking to purchase a new vehicle, We offer attractive trade-in options. We assess your car's trade-in value, which can then be credited towards your new purchase. This option is particularly beneficial for those looking to upgrade their vehicle while also offloading their current one.
7. Transparent and Reliable Transactions Transparency and reliability are at the heart of The Buy Center's' operations. We ensure that every transaction is safe and secure, dealing only with verified buyers. Our comprehensive post-sale support means that we're there for you even after the deal is done, ready to answer any queries or address any concerns.
8. Catering to a Range of Customer Needs Whether you're in a hurry to sell your car quickly, looking to get the most money for a high-value vehicle, or dealing with a car that might have flood damage, We cater to a wide spectrum of customer needs. We understand that each car and each seller is unique, and we tailor our services to meet those individual requirements.
9. Participating Dealership Network As part of a larger network of participating auto brokers, we offer unparalleled reach and resources. This network enables us to provide more options and better offers for your car. Whether you choose to sell us your car directly or trade it in at one of our partner dealerships, you're guaranteed a fair and competitive deal.
10. Answering All Your Queries We know that selling a car can come with many questions. From inquiries about the best way to sell, to understanding the payoff amount for a leased car, to queries about trade-in value, our team at The Buy Center is equipped to provide you with all the information you need. Our commitment to customer service means that we're always ready to address your frequently asked questions and ensure that you are fully informed throughout the selling process.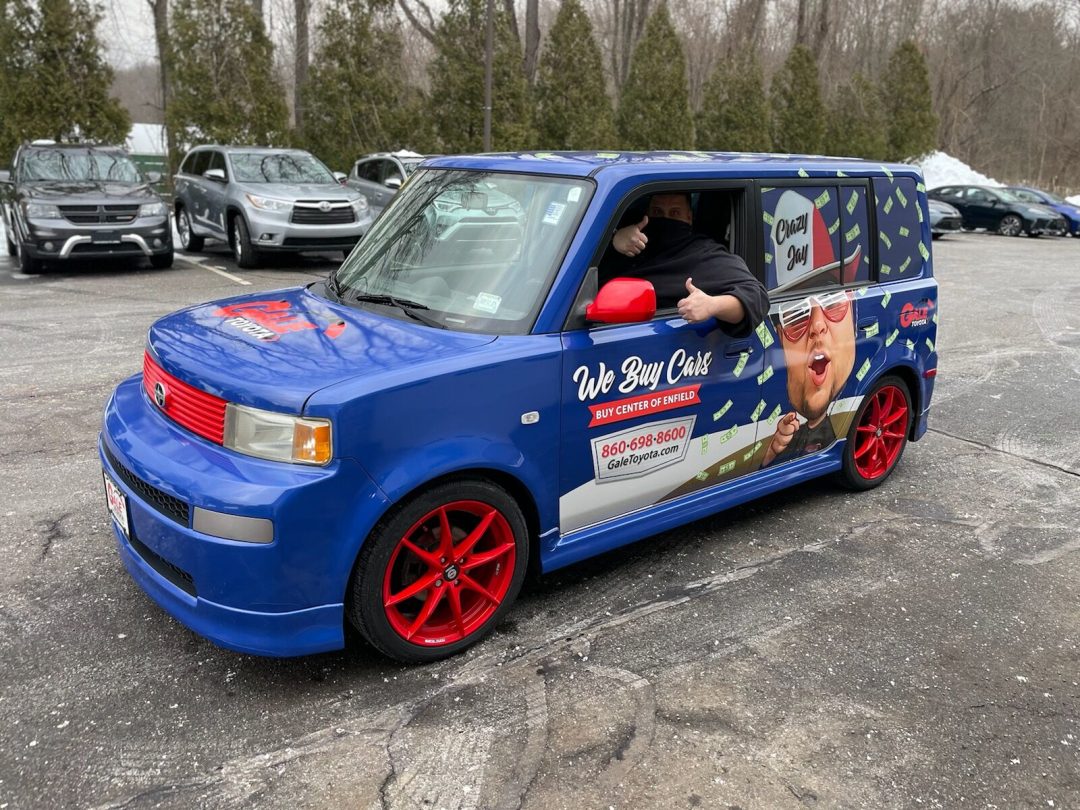 Why Sell Your Car To Crazy J Cars at The Buy Center of Enfield?
Trustworthiness: With years of experience, Crazy J Cars has built a reputation for honesty and integrity.
Competitive Offers: We pride ourselves on providing the best value for your vehicle.
Quick Process: Say goodbye to prolonged negotiations and paperwork. Our process is swift and straightforward.
Customer-Centric Approach: At Crazy J Cars, you're not just another transaction; you're valued
Comparing Crazy J Cars with Traditional Dealerships
| Criteria | Crazy J Cars & The Buy Center of Enfield | Traditional Dealerships |
| --- | --- | --- |
| Time Taken | Quick and efficient | Often prolonged |
| Valuation | Competitive and fair | Might undervalue |
| Customer Service | Personalized and attentive | Varies |
| Post-Sale Support | Comprehensive | Limited |
Preparing Your Car for Sale to Crazy J Cars
Documentation: Gather all necessary papers, including registration, insurance, and service records.
Cleaning: A clean car is more appealing. Consider a professional cleaning service for best results.
Minor Repairs: Address any small issues to ensure the car is in its best condition
The Selling Process at The Buy Center of Enfield
Online Inquiry: Start by filling out an inquiry form on the Crazy J Cars website.
Valuation: Receive a competitive quote based on your car's details and market trends.
Physical Inspection: Schedule a visit to The Buy Center in Enfield for a thorough inspection of your vehicle.
Final Offer: Post-inspection, get a final offer from Crazy J Cars.
Sale Completion: Once agreed, complete the necessary paperwork and receive your payment.
Documents Required for Selling
| Document | Description |
| --- | --- |
| Vehicle Registration | Verifies the car's ownership |
| Insurance Papers | Details of the car's insurance coverage |
| Service Records | Provides a history of the car's maintenance |
The Buy Center of Enfield
Choosing The Buy Center of Enfield for selling your vehicle means opting for a service that is committed to providing value, trust, and efficiency. Our unique approach to car sales transforms the experience, making it more convenient, transparent, and rewarding for you, the seller. Visit us online at Crazy J Cars at our Enfield CT location to begin your hassle-free car selling journey.